Samaveda International Academy Of Sound Healers offers 4 days Certified Courses for Tibetan Singing Bowls Sound Healing & Meditation Teacher Training Certification in Goa, Rishikesh, India
4 Days – Tibetan Singing Bowls – Sound Healing Teacher Training Course In Rishikesh, North Goa, India
A Sacred Sound Healing Training Through Tibetan Singing Bowls Therapy With Seven Chakras Bowls & Sound Healing Meditations Techniques.
Date: Tuesday 25th February until Friday 28th February 2020.(Location North Goa)
Date: Friday 27th March Until Monday 30th March 2020.(Location Rishikesh)

---
Course Objective: To understand the core principles of Sound Healing and Meditation, get the experience of practicing Sound Healing Meditations and learn to apply the knowledge to conduct Sound healing sessions and workshops.
Learn how to lead Tibetan Sound Bowls Therapy, Chakra Healing With Tibetan Singing Bowls and mantra sound healing private sessions.
Learn how to design and conduct 1 or 2 days workshops – seminars based on Tibetan Sound Bowls Therapy Sound healing meditations
---

If you are employed as an Alternative Healing Therapist, Medical Worker, Massage Therapist, Counsellor, Veterinarian, or any other job that has something to do with healing, it is possible that you are be meant to be a healer of some kind.
Join us to become an inspiring, time-tested, trusted and effective Sound Healer or a Spiritual guide to healing the world on the physical, mental, emotional and spiritual level.
Samaveda International Academy Of Sound Healers offers the Tibetan Singing Bowls Sound Healing Teacher Training Course, artfully structured in a way that during the 36 hours Sound Training program you will not only learn and practice the Tibetan Sound Meditation techniques we inherited from different cultures, but also you will understand the principles of Sound Healing. You will be trained in the art of leading various types of Sound Healing meditation sessions, so that you can guide others by running your own Sound Healing Meditation sessions, as well as run 1 or 2 days group Sound Healing Meditation workshops.
---
---

Who Can Join This Tibetan Singing Bowls Therapy – Sound Healing Teacher Training Program?
• Are you a Yoga or Meditation teacher, Tarot reader, Reiki energy healer, Alternative Therapist, Life Coach, Social Worker or a person who wants to perform better in the field you're already working?
• Are you looking for a more passionate, meaningful and engaging life?
• Are you committed to heal and serve others as a guide?
• Are you interested in spiritual practice and natural alternative healing methods which are opposed to western medicine?
• Are you looking forward to healing and transforming your life?
• Do you have a serious interest in learning and practicing sound healing and have a strong feeling towards sharing your wisdom & experience with other spiritual seekers to heal them?
• Are you prepared to commit wholeheartedly to awaken your inner healer?
• Are you willing to work hard and earn the title of a Sound Healer with courage, honesty, and integrity?
---

Tibetan Singing Bowls Sound Healing Training Overview:
Requirements: To receive a Satyam Shivam Sundaram With Samaveda – International Academy of Sacred Sound Healing Teacher Certificate all the students are required to attend 100% of theory and practical sessions and to pass practical and theoretical exams to ensure the training material has been mastered.
Prerequisites: Anybody can apply. (Above 20 years maximum 65 years)

Application: Accepted all year round.

Course duration: 4 days.
Course Objective: To understand the core principles of Sound Healing and Meditation, get the experience of practicing Sound Healing Meditations and learn to apply the knowledge to conduct Sound healing sessions and workshops.
Accreditation: Samaveda – International Academy of Sacred Sound Healing. Certificate issuer recognized: Internationally.
Suitability: Suitable for everyone with no yoga meditation healing experience.
---
What will you learn in 36 hours of Sound Healing Teacher Training Certification Course.
Use Sound as one of the most effective tools to relax into a natural meditation process, without straining or using the willpower.
Train your mind come back to the state of meditation when it starts to wonder. And to do it instantly.
Learn how through Sound Meditations to break the bounds of conditional thinking and behavior patterns that used to prevent you from seeing your true potential and experiencing joy, fulfillment and wellbeing.
Receive the training in the foundational aspects of any meditation from expert Masters. Learn about a proper meditation posture, best time to meditate, appropriate length of meditation sessions, how to overcome various obstacles and distractions, etc.
Learn to manage stress-level and get acquainted with the powerful stress reliving practice for facing life challenges with grace.
Enhance your communication skills and intuition to become an insightful Sound Meditation teacher.
Learn to guide spiritual seekers on the way to health and well-being through Tibetan Singing Bowls Healing Therapy.
Get inspired and qualified to become an ambassador of Tibetan Singing Bowls Sound Healing and make Healing and Spiritual Awakening available to people in your home town and all over the world.
Become an example to your family, friends, community and students of how Singing Bowls Healing Therapy can enrich your life, present new possibilities and enhance the quality of life.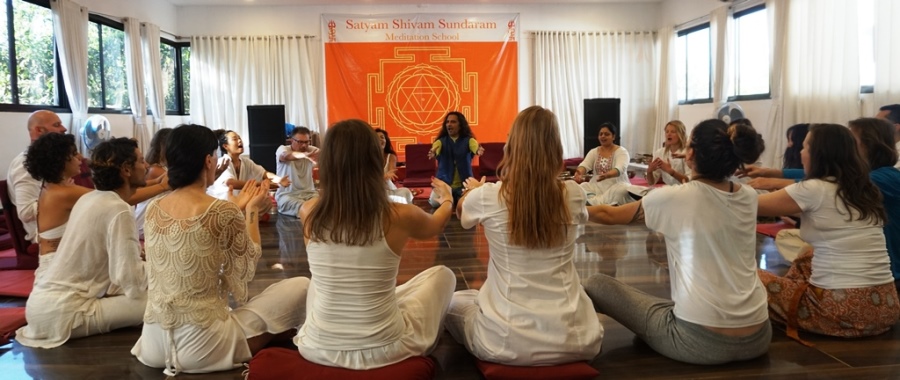 ---

How the Sound Healing Teacher Training Certification Course can change your life.
It seems like a miracle, but in only 4 days of Sound Healing Teacher Training Certification Course your life can tremendously change. The Sound Healing Masters mentoring the Course understand, have experienced themselves and have seen many examples of how simple but extraordinary powerful Sound Meditation techniques can initiate the Spiritual Awakening, change a students' world perception and heal body and mind. By graduating 36 hours Sound Healing Teacher Training Certification Course you will:
Improve your overall health and learn how, by integrating Sound Meditation into your routine, to maintain physical, emotional and mental wellbeing.
Learn the underlying principal of various Sound Meditation techniques, including Mantra Meditation, Tibetan Singing Bowl Meditation and Primordial Sound Meditation.
Benefit from deep engagement in spiritual practice on many levels and in numerous ways.
Improve your communication and understanding of peoples' needs, starting with yourself.
Get the knowledge of the healing properties of Singing bowls & sound vibrations and their application in life.
Get ready plans for 1 and 2 days Sound Healing workshops adoptable for different groups and venues and learn to design your own exclusive workshops.
Get an internationally recognized Sound Healing Teacher Certificate.
Get a chance to start a new, exciting and rewarding career of a Sound Healer.
---

Daily Schedule For 4 Days Tibetan Sound Healing Training
Healthy Vegetarian Breakfast
8:00
8:30
First Session (2 Hours)
8:30
10:30
30 Minutes Break
10:30
11:00
Second Session (2 Hours)
11:00
13:00
Lunch & Rest Time
13:00
15:00
Third Session (2 Hours)
15:00
17:00
Tea Break
17:00
17:45
Fourth Session
(1 Hours 45 minutes)
17:45
19:30
---

---
Tibetan Singing Bowls Sound Healing Training Schedule For Goa, India
Date: Tuesday 25th February until Friday 28th February 2020.(Location North Goa)
What's Included in Training: A/C Well Furnished Meditation Hall, Accommodation for 5 nights with Private Room with Double Bed and attached bathroom with hot water Shower, Extra night room accommodation charges extra. Every day morning healthy breakfast & lunch.
Location: Anahata Yoga Hall, Hotel Arambol Arbour, Arambol beach, Goa
Link for Photo of Our A/C Meditation Hall & Rooms Accommodation – Photo Gallery
Feel Free Visit Our past Sound healing Training Blog
Picture Gallery 1 – Picture Gallery 2
Regular Residential Course Price For Double Occupancy In Deluxe A/C Room : €550 Euros – Next 3 Early Birds Discount 125€ Euros.
Regular Residential Course Price For Single Occupancy In Deluxe A/C Room : €650 Euros – Next 3 Early Birds Discount 125€ Euros.
Non-Residential Course Price: €400 Euros – Next 3 Early Birds Discount 100€ Euros.
Booking Confirmation Fee 200 Euros – Rest payment On arrival. Payment Option By Paypal – https://paypal.me/satyamshivamsundaram
if you have any questions feel free to message us on whatsapp +917888206883.
Limited Seat Available – Write us email to find seat availablity – satyamshivamsundaram2@gmail.com
---
Sound Healing Training Schedule For Rishikesh India
4 Days – Tibetan Singing Bowls – Sound Healing Teacher Training Course In Rishikesh, India

Accommodation for 5 nights with Non A/C Private Room with Double Bed and attached bathroom with hot water Shower (Single Occupancy only) Extra night room accommodation charges extra. Every day morning healthy breakfast & lunch.
Date: Friday 27th March Until Monday 30th March 2020.(Location Rishikesh)
Location: Yoga Niketan Ashram, Muni-Ki-Reti, Ramjhula, Near-Ganga Vatika Flats, Rishikesh, India

Regular Residential Course Price For (Double Occupancy Shared Room) In Non A/C Room : €550 Euros – Next 3 Early Birds Discount 125€ Euros.
Regular Residential Course Price For Single Occupancy In Deluxe Non A/C Room : €650 Euros – Next 3 Early Birds Discount 125€ Euros.
Non-Residential Course Price: €450 Euros – Next 3 Early Birds Discount 100€ Euros.
Booking Confirmation Fee 200 Euros – Rest payment On arrival.
To book your seat – Booking fee first option – Funds transfer via Transferwise https://transferwise.com/ or second option funds transfer via Paypal – https://paypal.me/satyamshivamsundaram
if you have any questions feel free to message us on whatsapp +917888206883

Limited Seat Available – Write us email to find seat availablity – satyamshivamsundaram2@gmail.com